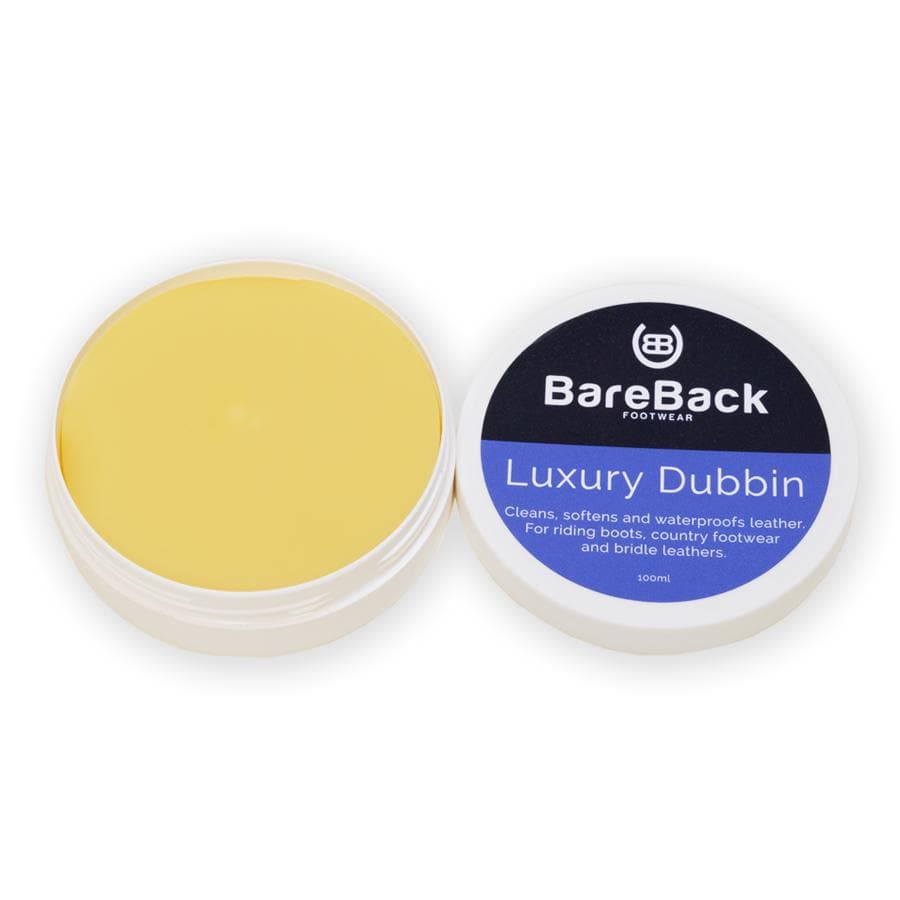 Bareback Footwear Luxury Dubbin 100ml
Bareback Footwear Luxury Dubbin Wax
Used to soften, condition and waterproof leather and other materials. Contains almond oil and natural waxes that will replenish and enhance dried worn leather. Ideal treatment for sports, equestrian and outdoor leathers. Apply to maximise water repellence, offer protection from dirt and stains and keep leather supple. Ideal treatment for sports, equestrian, shooting and outdoor leathers.
100ml
Recommended for use on:
 Andalucia, Quebec, Lucianna (brown), Dakota, Rocky, Bronx, Buffalo, Hudson, Kentucky, Roxy Waxed, Idaho, Windsor, Ohio, Dixie, Burlington, Delaware, Ottawa, Alaska, Nebraska and Polar Footbed.
Do not apply dubbin wax to suede or crushed nubuck leather footwear as this will change the appearance.
How to use dubbin:
Ensure that your leather boots or shoes are clean and dry before applying

While heat will help the wax penetrate the leather easier, it is important not to apply direct heat to your boot as this can cause the leather to dry out and split.  A hair drier can be used to heat up your shoes or boots until warm – do not overheat & NEVER leave your shoes near a radiator or open fire to heat. If the wax is too hard to rub in, this can be warmed up in the same way.

Apply a small amount of dubbin to a cloth and rub evenly over leather. Dubbin wax will leave a slightly oily film on leather (important for repelling water and dirt) and as such should be applied sparingly.  It is NOT recommended to apply dubbin wax to suede or crushed nubuck leather footwear.

Repeat as many times as necessary, ensuring wax is spread evenly and sparingly each time.

Leave for 30 - 60mins, then Buff with a soft dry cloth.
Fast, Tracked & Free Delivery
Free UK delivery on all orders over £70 Royal Mail despatched same day (Monday - Friday).
We are always here to help finding the perfect items or choosing the right size.
Bareback Footwear promise:
We never compromise, our footwear is created from the highest quality Italian leathers and superior components. 
No Quibble free UK returns on footwear using our prepaid Royal Mail label.