The Kentucky Collection
The boots so versatile they will end up replacing more than just your riding boots.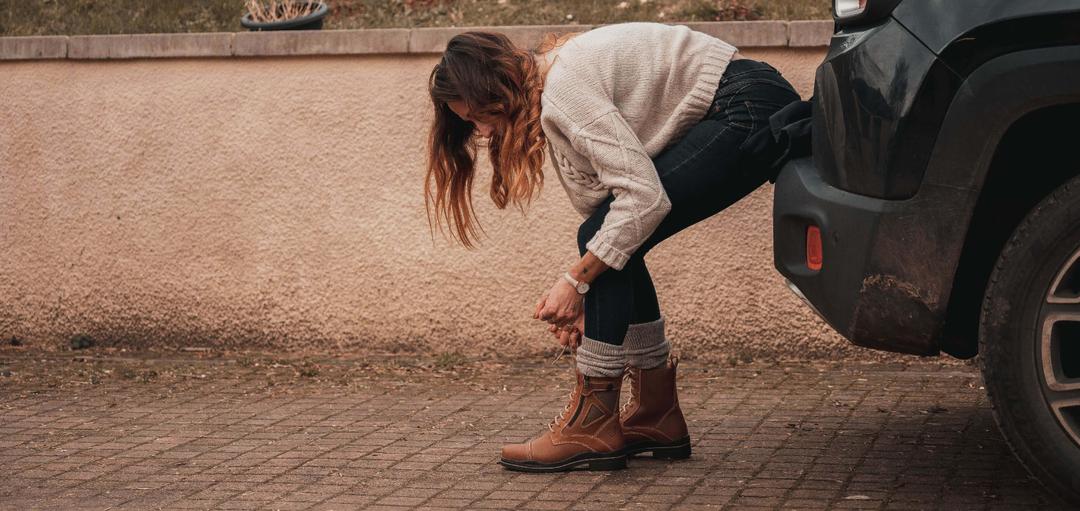 Our best selling short boots.
It's about Comfort. It's about a better fit. It's about Quality. ™
⭐⭐⭐⭐⭐
100's of 5 star customer reviews
Fully adjustable - Lace and zip system
Designed for comfort - Memory foam technology
Built to last - Made in Portugal from superior materials
Walking - Riding - Town and Country
Free Delivery & Free Returns
STORM COLLECTION ONLY

 has a waterproof W-Tex membrane running throughout the entire boot
Fully adjustable laces for perfect fit and support on the ankle as well as ease of getting on no matter of high arches. 
Buffed waxed calfskin leather
Contrast coloured detail stitching
Padded full ankle and collar with reinforced rear boot pull
Removable X-comfort moulded insole for providing cushioning and shock absorption to the whole foot
Short outside zip with leather studded guard
Intergrated moulded shank for support and balance
See what people are saying!
⭐⭐⭐⭐⭐ 
Fab colour
Jill on Apr 13, 2021
These boots have been so comfortable from day 1. Wear them for dog walking.
Gorgeous colour and a great fit.

⭐⭐⭐⭐⭐

Best boots I've owned!!
Gemma on Sep 09, 2020
Kentucky Storm Boots - Bordeaux - THE best boots I've ever owned. Comfortable from first putting them on, nice size heel and zip/lace combo is a fab idea. Warm and dry without being sweaty. Never want to take them off! I wish all shoes and boots were this perfect. Try them and fall in love like I did!
⭐⭐⭐⭐⭐
Kentucky storm jodhpur boots
Mandy pryce on Nov 05, 2020
OMG...these boots are sheer perfection!! don't waste your time or money looking for better boots!!
These are awesome quality, stylish yet so comfortable ...warm and waterproof...I love the look...could wear them out
⭐⭐⭐⭐⭐
AWESOME!!
Emma Dahm on Oct 21, 2020
Genuinely the best boots I've ever worn - so so comfortable and they have lasted me a couple of years of fairly hard wear. So impressed, i absolutely love them,  incredibly comfortable, tough and water resistant. 
The Kentucky has performance and style by the bucket full with unbeatable comfort for both a yard and riding boot. The rugged design is made from a combination of buffed waxed calf skin leather and tough nylon Condura fabric for durability and is lined with a Dermo Dry moisture wicking lining. 
Perfect for any activity from riding, walking on uneven ground or dressing up a little smarter for a comfortable day out and about! The Kentucky is our top selling short boot and has a massive following of people who have fallen in love with them! 
Are the Kentucky Storm boots fully waterproof?

The storm collection is fully waterproof, yes! The Kentucky storm boots have a fully waterproof W-Tex membrane which makes them fully waterproof and breathable. The membrane runs behind the zip to ensure the boots are waterproof right to the ankle (Black, Bordeaux and Mocha). Without the membrane the classic Kentucky Jodhpur boots are more breathable so make a good option for summer (Havana, Blue and Brown).

What makes your Kentucky boots so comfortable?

I'm glad you asked. There are lots of reasons but here are our top 3

  1: Memory foam insoles with added arch support. 2: The softest Italian leather that is so good it doesn't need breaking in. 3: We do extensive research into fit and foot bed construction, we believe that superior fit leads to more comfortable boots.

I've never heard of Bareback Footwear before, who are you?

Well where have you been! We have been designing and creating comfortable footwear that fits better since 2007.  We have a different approach to doing things, where the customers comes first and we always have time for you. Join the Bareback Footwear family today and find out what else we do differently. 

What can I do if they don't fit?

Buying footwear online can be tricky that's why our returns are completely cost and hassle free! Why not give our over the phone fit and style advice line a call? We are here to talk you through anything you may need to know and help you find your perfect boots.
Quebec Waterproof Boot Collection
⭐⭐⭐⭐⭐ 
FABULOUS BOOTS
Sophie Kendall on Mar 09, 2021

Just received my Quebec boots today, they're the best boots I've ever worn, the fit perfectly, they have a great memory foam insert for extra comfort, really warm and protect from the wind and rain, perfect for muddy dog walks!