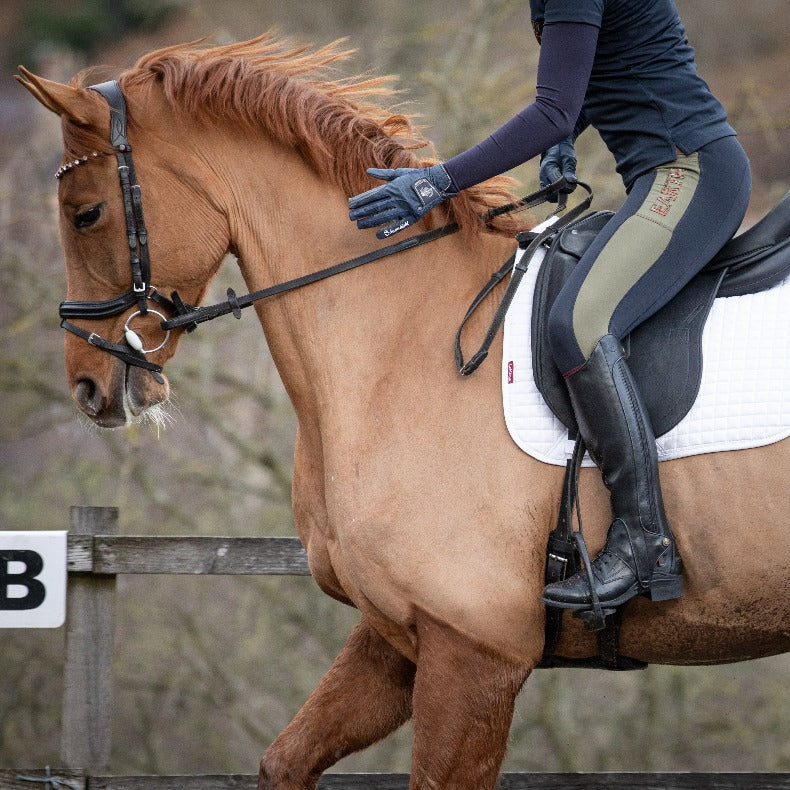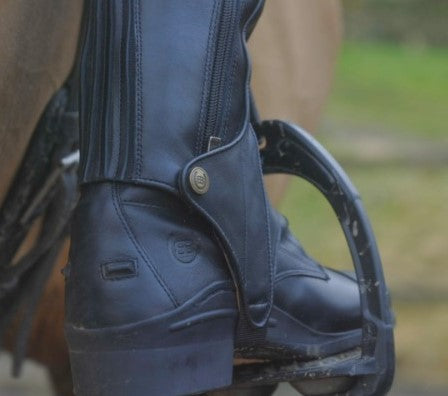 Vaqueros Premium Half-Chaps - Black
The softest leather chaps that fit like a glove. Designed to fit your Bareback Footwear.


BBF chaps are also designed to fit most short riding boots.
4cm Covered elastic stretch panels for a more accommodating fit
Elastic Foot Stirrups
Piped Finish 
4cm Spanish top Line
Leather skirt over the instep
Top and bottom zip protectors
Available in brown and black


Fast, Tracked & Free Delivery
Free UK delivery on all orders over £70 Royal Mail despatched same day (Monday - Friday).
No Quibble free UK returns on footwear using our prepaid Royal Mail label.
We are always here to help finding the perfect items or choosing the right size.
Bareback Footwear promise:
We never compromise, our footwear is created from the highest quality Italian leathers and superior components. Designed and made to last with the latest production techniques.
Half Chap Fitting Adivce
Essential Advice
Please note: Half chaps when paired with your favourite boots should feel very snug and should be hard to on at first.
You don't want your half chaps to be too loose.
When you are first trying them on. They will ease over a few days of wear and mould to the shape of your leg.
Half chaps should come right up to the knee.
They should reach the bend in your knee and if they sit lower than ¼" lower than your knee, they are too short.
The easiest way to fasten new chaps is by straitening your leg, you might also want to recruit a friend to help.
Measuring your legs for the fit
Please note: In order to get an accurate measurement you will need to wear the same legwear that you usually ride in.
1) Sit on a chair with your knees bent at a ninety-degree angle with your feet flat on the floor.
2) Measure your calf at its widest point using a cloth tape measure. Keep the tape measure tight. This is your width measurement. 
3) Measure your calf length from the floor to the back of your knee. This is your height measurement. 
4) Compare your measurements to the size chart and select your half chap.
If you discover you have two different calf sizes,  its best to select using the smaller measurement.
Bareback Footwear chaps will stretch and elastic panel that should compensate for the different leg shapes.
Get in touch if you would like further information or help with your selections. 
Description
Sophisticated Calf Skin leather lined half chaps finished with a Spanish top. Designed for riders who desire the support and appearance of tall boots but with the added versatility and comfort provided by more fitting options.

These premium unisex half chap are made from a soft supple calf skin leather with a natural leather lining for the closest contact while riding.

Designed using the same supple leathers to seamlessly match with the Idaho, Idaho Storm and Windsor riding boots to complete a matching look.
Matching Jodhpur Boots
10% OFF Jodhpur boots when brought with Half-Chaps
Use code: Jods&Chaps